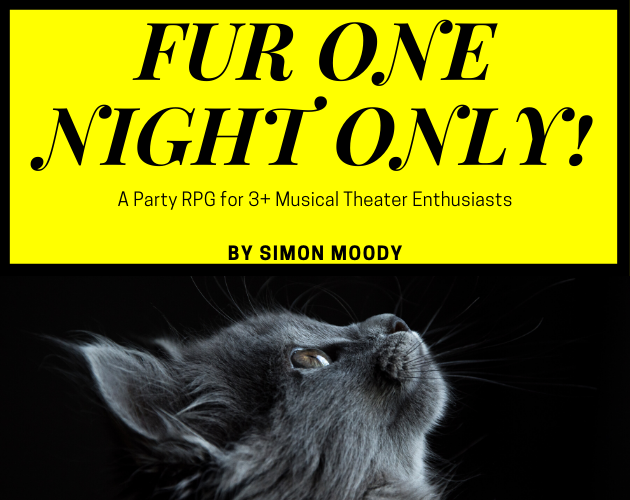 Fur One Night Only! - Playbill Edition
It's time for your feline society's annual ritual of heavenly ascension, but something's gone wrong, and there are rumors that there's a traitor in your midst. How will you avert disaster? Which of you will prove yourself the most Adored cat and earn the right to ascend? And which of you is secretly the most Odious cat, plotting to snatch that right from under everyone's whiskers?
Fur One Night Only! is a party RPG in the spirit of games like Honey Heist or Lasers and Feelings. That means you can play it right after reading the rules and have a satisfying play session in just an hour or less. You'll need one GM and 3 or more players to make sure the end of the game works correctly.
The PLAYBILL EDITION of Fur One Night Only! is the game's official release. It's designed to be readable on devices as well as easily printed into a homemade zine! Just set your printer up for booklet printing in your PDF reader of choice, fold, and staple down the spine.

Want to see the game in action? Check out this Actual Play, originally streamed on Twitch.tv/Huetopia on 8/26/20!
Purchase
In order to download this game you must purchase it at or above the minimum price of $5 USD. You will get access to the following files:
Fur One Night Only! PLAYBILL EDITION v1.1.pdf
285 kB
Community Copies
Support this game at or above a special price point to receive something exclusive.
Community Copy
Each copy of Fur One Night Only! that you buy helps someone else get a free copy of the game if their budget doesn't enable them to pay the listed price. If you're unable to budget for a copy of Fur One Night Only! priced as listed, please claim one of these free copies for the community.