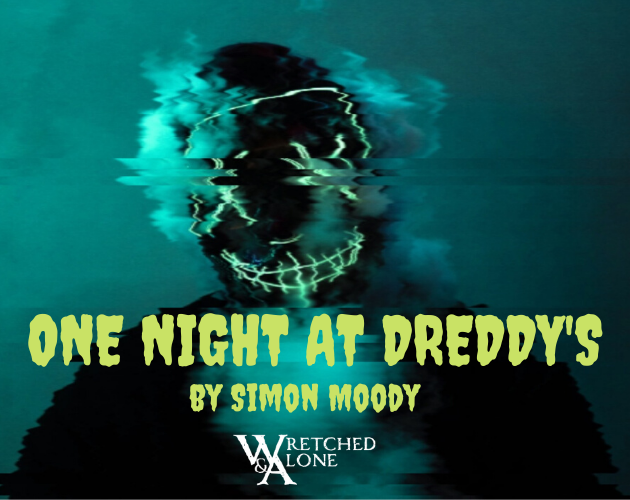 One Night at Dreddy's
You're a newly-hired security guard for a local franchise of the mostly defunct Dreddy's Pizza Palace children's entertainment chain. You used to come here all the time as a kid. Now as an adult, this place feels wrong... cursed. Ghosts of the past haunt you, the animatronics are stalking you, and reality is breaking around you. Still, you press on - rent is due soon and this is the only job you can get right now. Can you survive your memories of the past brought to life by a dying, haunted arcade?
One Night at Dreddy's is a solo game of economic horror, inspired by Five Nights at Freddy's and Silent Hill. It was written for the Wretched & Alone Jam. To play you'll need a deck of cards, some d6s, and a tumbling tower. It makes changes to conventional Wretched & Alone design so that the gameplay is still focused on journaling and survival horror, but there is a greater focus on hope and there are greater odds of making it out alive.

The COLOR edition comes with stylized background and text colors for aesthetics. The B&W edition sets text in black on white background for easier reading. The PRINTER edition replaces the front and back covers with plain text in black and white to be printer-friendly.
Content Warnings: fear, isolation, suspense, despair, violence, death, nostalgia, bullying, physical harm and/or death of children, body horror, economic hardship, capitalism, hallucination, guilt, and overwhelming obligations.
Soundtrack: tinyurl.com/dreddys-ost
---
This work is based on The Wretched (found at http://loottheroom.itch.io/wretched), product of Chris Bissette and Loot The Room, and licensed for our use under the Creative Commons Attribution 3.0 Unported license (http://creativecommons.org/licenses/by/3.0/).
THE WRETCHED™️ is a trademark of Chris Bissette. The Wretched and Alone logo is © Chris Bissette, and is used with permission.
Purchase
In order to download this game you must purchase it at or above the minimum price of $8 USD. You will get access to the following files:
ONE NIGHT AT DREDDY'S Color.pdf
469 kB
ONE NIGHT AT DREDDY'S B&W.pdf
464 kB
ONE NIGHT AT DREDDY'S Printer.pdf
306 kB
Community Copies
Support this game at or above a special price point to receive something exclusive.
Community Copy
Each copy of One Night at Dreddy's that you buy helps someone else get a free copy of the game if their budget doesn't enable them to pay the listed price. If you're unable to budget for a copy of One Night at Dreddy's priced as listed, please claim one of these free copies for the community.
Comments
Log in with itch.io to leave a comment.
This seems like a good idea. But I have camped for months and can't get a community copy
Unfortunately, community copies are only created when people purchase the game and sales for this game are low. I do hold sales on my games often (this game was 50% off for Halloween), so you may be able to budget for it then. If not, I hope someone buys a copy soon.