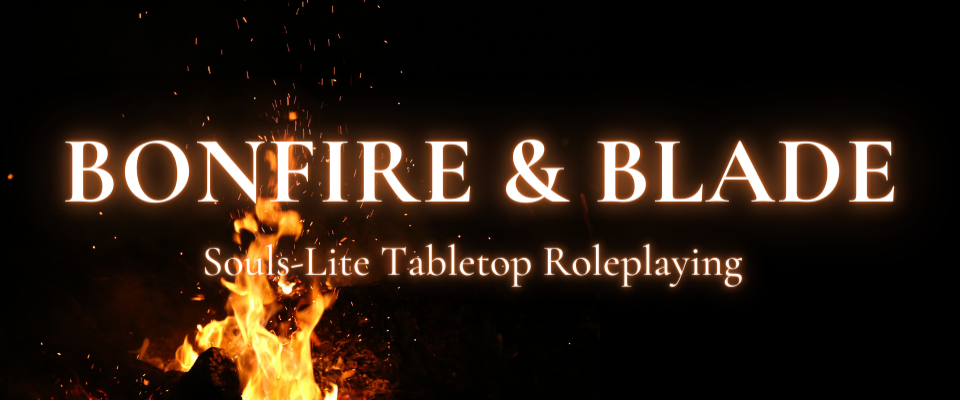 Bonfire & Blade
YOU DIED
You are an Undead ― a creature cursed to an endless cycle of death and resurrection ― newly arisen amidst a crumbling kingdom of ruin and despair. You have fragmented memories of your life before this affliction, and fleeting visions of a world from a time long gone (though exactly how long, none can say). Your soul has been hollowed out of your body, replaced by a flickering flame that sustains you instead of food and drink. Whoever you were, you now are not, and perhaps never shall be again. All you are left with now are rusted weapons and armor, rotting flesh, and a gnawing hunger to stoke your inner fire. The world you have awoken into is dying, yet you cling to a glimmer of hope that you can either find escape from this place or discover a way to restore it. Perhaps you believe both are possible… or perhaps you will lose hope and seek to damn the world as much as you yourself are.
WHAT THIS IS
Bonfire & Blade is a rules-lite tabletop RPG inspired by the setting and themes of Dark Souls, with a system based on the excellent pamphlet RPG Vampires & Claymores. It can be run by one person facilitating the game as the Fire Keeper, with one or more players exploring the world, and a handful of 6-sided dice in two colors. It adds new rules and ideas to Vampires & Claymores' design:
Earn a rest at a bonfire to recover your wounds and refill your healing flasks.
Harvest Tinder from the ruins and corpses of your foes to stoke your inner fire, spending it as currency or to empower your action rolls.
Each death brings new Insight into your skills and the world; use these lessons to exploit enemy weaknesses, avoid danger, or bypass challenges.
Uncover and declare Truths about the world that was and decide if they fill you with hope or despair. Will you eventually choose to remake the world, escape your undead curse, or fall to ruin and become a terrible new opponent?
Play for multiple sessions or follow the included advice on how to run the game in a contained and satisfying one-shot.
WHAT'S NEXT
With time and enough sales, I hope to be able to provide the following updates to Bonfire & Blade:
A one-page rules reference sheet.
A proper character sheet for easier play.
Advice and/or assets for online play, with or without a virtual tabletop.
One or more sample adventure starters to help get your game off the ground.
An in-depth example of how to set up the game world, including sample locations and mysteries to explore.
Bonfire & Blade was created for the RPG LATAM JAM in April, 2021.
This game is an independent project based on Vampires & Claymores by TorTheVic and is unaffiliated in any way. It includes many of those game mechanics and ideas, and either reuses or remixes them with permission.

Purchase
In order to download this game you must purchase it at or above the minimum price of $5 USD. You will get access to the following files:
Bonfire & Blade v1 4-6-21.pdf
158 kB
Community Copies
Support this game at or above a special price point to receive something exclusive.
Community Copy
Each copy of Bonfire & Blade that you buy helps someone else get a free copy of the game if their budget doesn't enable them to pay the listed price. If you're unable to budget for a copy of Bonfire & Blade priced as listed, please claim one of these free copies for the community.